Burke Seasoned Beef Crumbles is one of the most versatile fully cooked meat ingredients offered to prepared food manufacturers today. The authentic beef flavor marries well with a wide range of flavor profiles and cuisines giving you the option to utilize the full potential of this topping in many different product lines. This topping is great for pizzas but can also be utilized in anything from soups to appetizers and everything in-between.
Additionally, Burke fully cooked Seasoned Beef Crumbles are IQF, or individually quick frozen, which means each crumble is frozen instead of bulk frozen, allowing for free flowing product during your manufacturing process. Our Seasoned Beef Crumbles also contain a proprietary blend of natural antioxidants for the freshest product possible.
The following menu ideas are some fresh ways to incorporate Seasoned Beef Crumbles into your new frozen prepared food concepts.
New concepts featuring Seasoned Beef Crumbles for prepared food manufacturers:
Savory Sticky Buns: Seasoned Beef Crumbles accompanied by onions, mushrooms, spinach, cinnamon, sage, and garlic powder. All combined and rolled into cut pizza dough strips. Drizzled with jalapeño pepper jelly and cream cheese.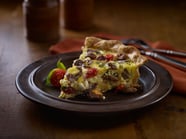 Mediterranean Quiche: A Mediterranean twist on a traditional French recipe. Pie crust filled with a mixture of half and half milk, eggs, Seasoned Beef Crumbles, tomato basil feta cheese, mozzarella cheese, roasted red peppers, spinach, garlic, red onion, and olives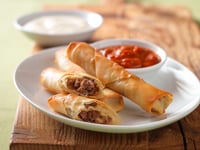 Beefed Up Mozz Sticks: Mozzarella sticks and Seasoned Beef Crumbles wrapped in an egg roll wrapper and baked. Served with a spicy marinara sauce.