One of the most common uses of Italian Sausage is on a pizza. However, there are endless other ways to integrate Italian Sausage on a menu. Try combining it with trending flavors and ingredients to catch the ever-changing consumers attention. Here are six new and delicious ways to incorporate Burke Coarse-Ground Italian Sausage into your menu today.
Breakfast Taquitos:
Small tortillas tightly rolled and baked. Packed full of Spicy Italian Sausage, scrambled eggs, sun-dried tomatoes, diced avocado, sharp cheddar cheese, black beans and sliced onion. Salsa and sour cream make great dipping sauces for this crunchy breakfast recipe.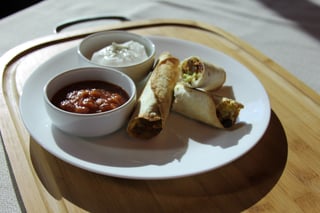 These delicious, one-handed breakfast taquitos are packed with protein and healthy fats, like avocado! Breakfast proteins that provide sustained energy are on trend. Combining Italian Sausage with scrambled eggs demonstrates that you know how to make protein addition a top priority. This baked breakfast option would be a great addition for any brunch.
Sausage and Spinach Lasagna Pizza: An oven baked pizza dish layered with fresh pizza dough, tomato sauce, mozzarella cheese, cooked lasagna noodles, ricotta cheese, spinach and Spicy Italian Sausage.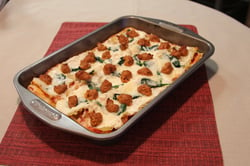 Even though Italian food is nothing new to the food industry, transforming a classic dish can inspire customers to try your new formulation. This combination of two Italian favorites, pizza and lasagna, is a great way to test out this idea. Pizza burgers and taco salad don't have to be the only winners in this category!
Zany Zoodle & Sausage Pizza: Your favorite pizza dough topped with parmesan cream sauce, mozzarella cheese, dried basil and thyme, roasted cherry tomatoes,and spiralized zucchini noodles – zoodles! Mild or Spicy Italian Sausage will round out the flavors with a meaty punch.
There is no doubt about it, consumers want better-for-you
options when they eat away from home. This trend toward fresh and clean has been growing over the past few years. Adding vegetables to a pizza is one way to signal that your menu has what the consumers are looking for. It would also be a great way to sneak vegetables into the diets of the pickiest of kids.
Spicy Italian Sausage & Kale Tortellini: Tortellini pasta mixed with Spicy Italian Sausage, onions, garlic, tomatoes and kale in a cream sauce. A new way to freshen up your traditional tortellini pasta.
Continuing with the trending fresh and healthy options, superfoods have become a new craze on menus across the country. This includes ingredients such as pomegranate, acai berries and kale because of their high nutritional value. Kale can pack a punch with its nutrient dense profile consisting of antioxidants and a high potency of vitamins A, K and C. Combining a superfood with your protein source will surely draw the attention of the new evolution of health-nuts.
Sausage & Spinach Stuffed Shells: Jumbo stuffed pasta shells filled with ricotta, mozzarella, parmesan, spinach, and Mild Italian Sausage on top of a red sauce. A simple and delicious dish that everyone will enjoy!
Although consumers are looking for better-for-you options on a menu, there is still a high demand for comfort and indulgence foods. Experiment with different types of meat, cheese or vegetables that you have on hand.
Meat + Margherita Pizza: A classic Margherita pizza made with sliced mozzarella, tomatoes and basil topped with Mild Italian Sausage. A meaty twist on a traditional Italian pizza.
The classic Margherita pizza is simple, fresh, and seems to be on every pizzeria's menu these days. Why not mix it up by adding some sausage?
Our Italian Sausage is available in spicy or mild and a variation of crumble sizes. The Coarse-ground texture gives a better bite while being all meat with no fillers. It is a versatile product that can be incorporated within your menu in many different ways. Many of the current food trends, like added protein and better-for-you options, pair well with our Italian Sausage. The recipes above are just a few ideas that incorporate Italian Sausage in a menu, but the possibilities are endless.