Industry experts offered their insights at the recent International Pizza Expo in Las Vegas, NV. Jason Dorsey, Chief Strategic Officer at The Center for Generational Kinetics; Darren Tristano, Executive Director at Technomic; Nancy Kruse, President of the Kruse Company, and Glen Cybulski, COO of Persona Pizza Holdings, among others, shared views on topics including the Millennial generation, trends, and more—and their expertise is well worth sharing here.
Differentiation - Make sure you stand apart from your competition. There are many things you can do to set yourself apart, such as offering unique pizza ingredients, signature sauces, and interesting combinations.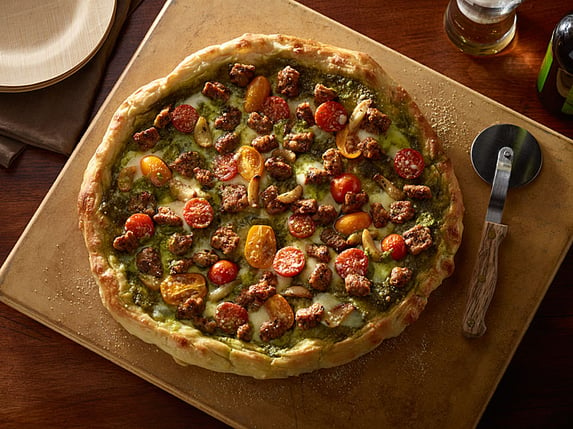 Pesto and Chicken Sausage Pizza
Unexpected pizza toppings, like our new Chicken Sausage with Parmesan and Sun-dried Tomatoes, will appeal to patrons looking for a different spin. Or offer a Creamy Beef and Mushroom Pizza with Alfredo sauce, mozzarella, Gruyere, spinach, mushrooms, and our Seasoned Ground Beef. Design a varied menu—and don't forget about unique drinks and desserts as well.
Appeal to Millennials – Millennials are a quickly growing group of future spenders (and future employees), with a trillion dollars of spending power predicted. It's important to know what resonates with this generation.
Value – "Value" means a good product/experience at a fair price. To add value, think about quality; ambience; choice; customization; unique offerings; sustainability, social responsibility and local ties; and transparency.
Communication – Communicate with your audience digitally, and be specific about your uniqueness. Because this generation is visual, show them what you've got to offer rather than telling them.
Flavor – The bigger and bolder, the better—especially with pizza. In fact, 54% of all Americans prefer highly spiced foods! And 55% of 18- to 34-year-olds want to try new flavors and lots of variety. A pizza made with our Sriracha Sausage, along with Sriracha cream cheese, mozzarella, green onions, and a honey drizzle, would appeal to this crowd. Ethnic options are on the rise, with Mexican a favorite. Try offering new flavors seasonally or as LTOs to drive traffic.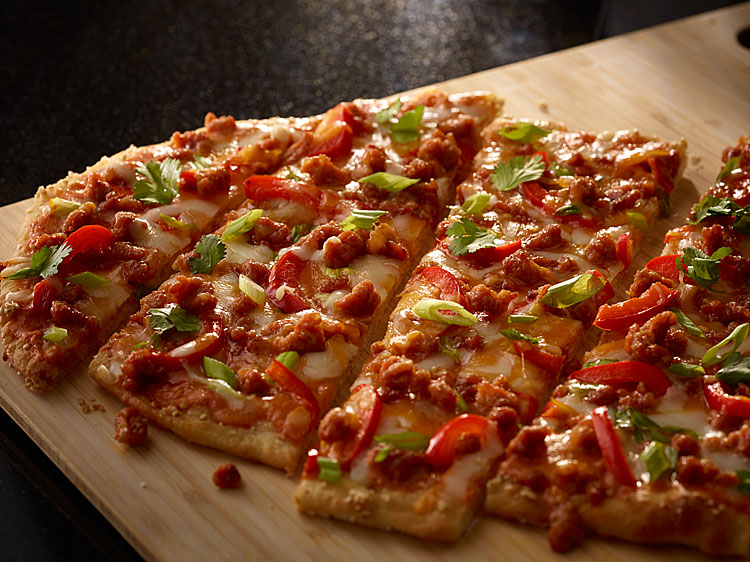 Honey & Sesame Thai Pizza
With all these trends, customer demands, and upgrades, what about pizza profit margins? While the average profit margin in the industry is 7%, there are ways to increase yours:
Business and menu engineering is key
Portion control means less waste
Investment in systems and staff pays
Partnerships with trusted vendors can lead to success
Most important, embrace who you are and don't be afraid to blow your own horn. Make sure your brand is strong and growing, and stay true to it as you innovate. When you strive for differentiation—even if you take baby steps—you're one step closer to making sure you're always offering the kind of exciting, flavorful experience Millennials talk about, share, and come back to again and again.

See how our fully cooked meats can help you differentiate your products. Request a sample today!