Burke recently launched two new Chicken Sausages – Chicken Sausage with Parmesan and Sun-dried Tomatoes, and Asian-Style Chicken Sausage with Ginger and Garlic.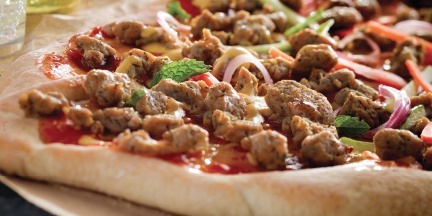 On-Trend with Consumers
These unique, flavorful crumbles were developed to help manufacturers and foodservice operators take advantage of two hot trends: consumers' desire for global flavors, and the growth of leaner protein options as part of a healthier lifestyle.
Delivering Adventures in Eating
Consumers' palates are changing. They are more adventurous than ever, and want unique, global foods. 82% of consumers are open to trying new flavors1, and look for restaurants that deliver bold menu items.
Leaner Protein for Healthier Lifestyles
Chicken is growing with consumers, and appeals to guests looking for leaner protein options when eating out. In fact, chicken is the fastest growing pizza topping, and chicken sausage is growing the fastest of all chicken formats.2
High Quality, Bursting with Flavor
These fully cooked chicken sausage items start with high quality ingredients. Each delicious crumble bursts with flavor while providing the appeal of leaner protein chicken. Plus, they're IQF so they're easy to use, and deliver the product consistency and safety that manufacturers and foodservice operators expect.
Versatile for a Variety of Menu Ideas
Both versatile varieties are perfect pizza toppings or ingredients that can be used in a wide variety of applications, including on pizzas, in breakfast and lunch/dinner entrees, in soups, pastas, appetizers and more. The possibilities are endless.
1 Mintel, 2014
2 Technomic, 2015